LATICRETE® MVIS™ (Masonry Veneer Installation System) Mortars and Renders are excellent wall leveling and repair products for exterior and interior masonry veneers. The MVIS™ Systems are designed for natural cut stone, manufactured stone and thin brick installations. A great veneer installation system all starts with a strong flat substrate, to provide a high performance surfaces to receive veneer finishes!
Our masonry veneer installation system products include adhesives, air and water barriers, pointing mortars and sealants. Using the MVIS system provides you with a permanent, high strength installation that is freeze/thaw stable and protected from water intrusion. We guarantee it! Our MVIS products are backed by either the LATICRETE® 15 Year System Warranty* or 25 Year System Warranty*.
Click on the masonry veneer link above to learn more about these products, warranties, read independent testing reports or request brochures.
*See Data Sheets 025.0 and 230.15 for complete warranty information.
MVIS™ Premium Mortar Bed
MVIS Premium Mortar Bed is a polymer fortified blend of carefully selected polymers, portland cement and graded aggregates.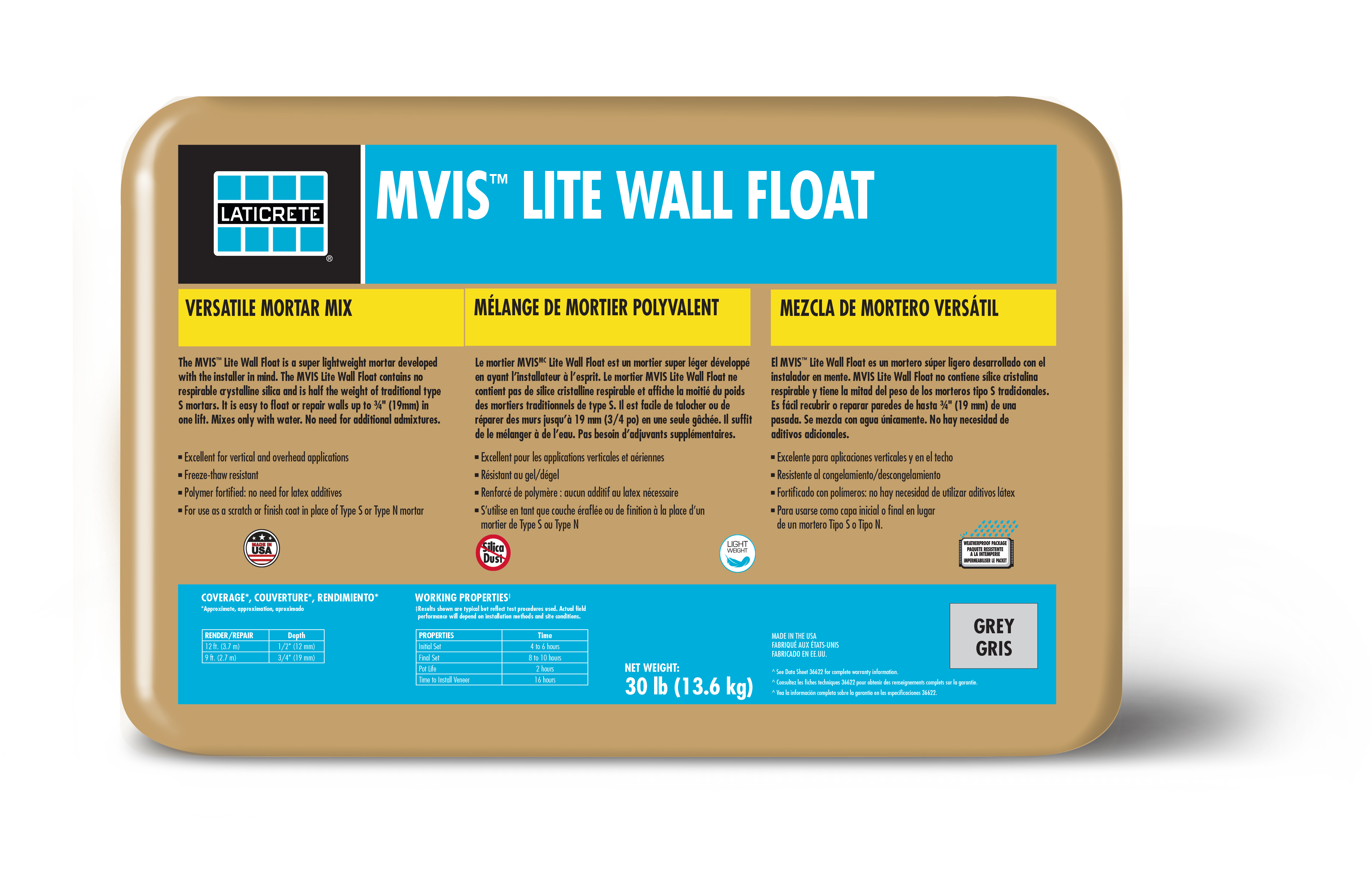 MVIS™ Lite Wall Float
This super lightweight mortar has been developed with installer safety and convenience in mind. It contains no respirable crystalline silica levels that exceed the OSHA action level* and it is half the weight of traditional Type S mortars. It is easy to float or repair walls up to ¾" (19 mm) in one lift. Just mix it with water (no blending of powders) and no additional admixtures needed.
MVIS™ Cost Savings Calculator
Utilize our online calcuator to determine your estimated savings when using our Masonry Veneer Installation System (MVIS™) compared to a traditional lath and scratch installation.
Calculate Your Savings
Need help? We're here for you.